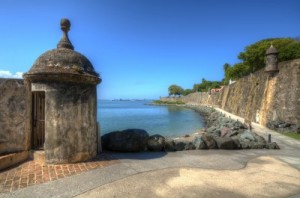 Oriental Financial Group ("Oriental") began using the mark COOP ORIENTAL in Puerto Rico in 1964.  Two years later,  in 1966, Cooperativa de Ahorro Y Crédito ORIENTAL ("Cooperativa") began using the same COOP ORIENTAL mark in Puerto Rico.
Forty-three years later, in 2009, Oriental sent Cooperative a cease and desist letter.  When Cooperativa refused, Oriental sued.  The district court found a likelihood of confusion between the two marks and entered an injunction requiring Cooperativa to stop using the most recent version of its logo, but allowed Cooperativa to use an older version of it logo.
Among several issues on appeal was Cooperativa's argument that after forty-three years of using the COOP ORIENTAL mark, Oriental's claims were barred by latches.
"Laches requires proof of (1) lack of diligence by the party against whom the defense is asserted, and (2) prejudice to the party asserting the defense." Museum of Fine Arts, Bos. v. Seger-Thomschitz, 623 F.3d 1, 10 n.9 (1st Cir. 2010) (quoting Costello v. United States, 365 U.S. 265, 282 (1961)). However, laches applies only where the plaintiff knew or should have known of the infringing conduct. See Valmor Prods., 464 F.2d at 204; see also What-A-Burger of Va., Inc. v. Whataburger, Inc. of Corpus Christi, Tex., 357 F.3d 441, 450 (4th Cir. 2004) ("Instead of focusing on when the trademark owner first knew that another party was using its mark, the court should be trying to determine the time at which the use became infringing and the time at which the owner should have known it . . . ."); ProFitness Physical Therapy Ctr. v. Pro-Fit Orthopedic & Sports Physical Therapy P.C., 314 F.3d 62, 70 (2d Cir. 2002) ("[A] plaintiff should not be obligated to sue until its right to protection has ripened such that plaintiff knew or should have known . . . that plaintiff had a provable infringement claim against defendant.").
Oriental argued that despite the diminutive size of Puerto Rico and the limited number of banks on the island, it had no knowledge of Cooperativa's use of COOP ORIENTAL until 2009.   Oriental further argued that Cooperativa failed to establish prejudice.
In a classic move, the United States Court of Appeals for the First Circuit ignored both of these arguments.  Instead, the Court held that latches did not bar Oriental's claim based on the doctrine of progressive encroachment.
As a general rule the progressive encroachment doctrine requires proof that (1) during the period of the delay the plaintiff could reasonably conclude that it should not bring suit to challenge the allegedly infringing activity; (2) the defendant materially altered its infringing activities; and (3) suit was not unreasonably delayed after the alteration in infringing activity. See generally 6 McCarthy, supra, § 31:20.

Here, satisfaction of the second and third requirements are not open to serious dispute. The second requirement "turns . . . on the likelihood of confusion resulting from the defendant's moving into the same or similar market area and placing itself more squarely in competition with the plaintiff." Kellogg, 209 F.3d at 573 (emphasis added). Put succinctly, we ask "whether [the] defendant, after beginning its use of the mark, redirected its business so that it more squarely competed with plaintiff and thereby increased the likelihood of public confusion of the marks." ProFitness Physical Therapy, 314 F.3d at 70 (emphasis added); Kason Indus., 120 F.3d at 1205; see also Tillamook Country Smoker, 465 F.3d at 1110 ("To establish progressive encroachment, [a plaintiff] . . . ha[s] to show that [the defendant] 'expand[ed] its business into different regions or into different markets.'" (quoting Grupo Gigante SA De CV v. Dallo & Co., Inc., 391 F.3d 1088, 1103 (9th Cir. 2004) (emphasis added))). Increases in the allegedly infringing advertising are also pertinent.
The Court noted that for years Cooperativa only had three branches in Puerto Rico all near the city of Humacao, and none in San Juan where Oriental was based.  It was not until 2008 that Cooperativa began to expand its business into San Juan.  (This was apparently sufficient for the Court even though Humacao is only a 45 minute drive  from San Juan).  In addition in 2009 Cooperativa began expanding its advertising efforts.  The court viewed these activities as an expansion of Cooperativa's business from "regional" to "island-wide." (This was apparently sufficient for the Court even though you can drive across the whole island in about three hours).
Latches is a tough issue for the courts.  On the one hand, it is difficult for a court to take away a trademark holder's right to sue.  On the other hand, if a company has been using a mark for some what rights, if any, has it aquired?  It is often the case that companies may for years co-exist with no likelihood of confusion despite similar or even identical marks.  It is only when businesses change and enter in new areas (geographically or types of goods and services) that a conflict is actually created.