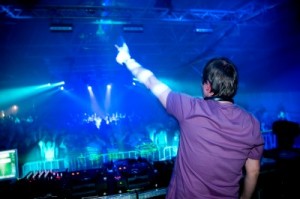 Long time disc jockey DJ Paulie has sued Jersey Shore star DJ Pauly D for trademark infringement.   Also caught up in the lawsuit is the Palms where defendant DJ Pauly D is a resident DJ for Moon, Rain, and the Palms Pool in Las Vegas.
Although not nearly as famous as DJ Pauly D, the older DJ Paulie claims to have used his trademark in interstate commerce as early as 1973.  DJ Paulie's biggest claim to notoriety stems from his claim in his complaint that,
After the attack on 9-11 in New York City, [DJ Paulie] was hired by the United States Post Office to write the music and produce their official 9-11 Memorial Fundraising Song, "September Mourn", for the benefit of the victims' families.
(While it appears that DJ Paulie did produce "September Mourn" based on the exhibits attached to the complaint, I was unable to locate anything to indicate that DJ Paulie was hired by the U.S. Post Office or that the Post Office ever had and "official 9-11 Memorial Fundraising Song.")
DJ Paulie complains that DJ Pauly D's success has negatively affected his search rankings. Indeed when performing a search for DJ Paulie, Google inquires whether you really meant DJ Pauly D (which is probably who most people are actually searching for).  It is unknown when DJ Paulie's website became completely swamped by the Jersey Shore actor, but many Google and Bing algorithm tweaks in recent years  seem to favor "big brands" and Goggle's algorithm clearly recognizes DJ Pauly D as the more prominent "brand."
DJ Pauly D's attorneys have not yet responded to the complaint, but I suspect that they will argue that the older DJ Paulie abandoned the mark at some point in his long carrier and did not begin using it again until 1999 or 2000 when DJPaulie.com was launched.  DJ Pauly D could then argue that he is actually the senior trademark user.   According to DJ Pauly D's bio he has been a DJ since the age of 16 (1996).
Over at the trademark office, DJ Pauly D's pending applications for the mark DJ Pauly D have been rejected by the trademark office based on a likelihood of confusion with DJ Paulie's mark.  DJ Pauly D is in a tough spot at the trademark office as there is little chance of convincing the examining attorney who (rightly) has identified this likelihood of confusion issue.  DJ Pauly D's trademark office options at this point are: (i) appeal the matter to the trademark trial and appeal board; (ii) settle with DJ Paulie and enter into a co-existence agreement; or (iii) start a cancellation proceeding at the trademark office against DJ Paulie arguing that DJ Pauly D is actually the senior trademark user.