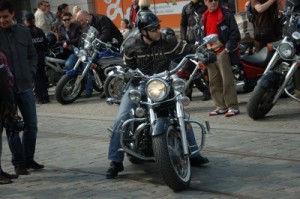 Since at least 1938, the Sturgis Motorcycle Rally ("Rally") has been held each year in and around the City of Sturgis, South Dakota and has attracted hundreds of thousands of visitors to the area.  This year, a newly formed organization, Sturgis Motorcycle Rally, Inc. is claiming exclusive trademark rights to the city's name and seeks to obtain a royalty on products which bear the name "Sturgis."
The trademark dispute concerning the "brand" Sturgis goes back to January 30, 2001 when the Sturgis Area Chamber of Commerce filed a trademark application for STURGIS ("Sturgis Mark").  The Sturgis Mark was filed for a huge range of goods and services in fifteen (15) classes including key rings, pocket knives, firearms, stickers, shot glasses, flags, T-shirts, belt buckles, gaming chips, water, liquor, and beer.
Initially the Sturgis Mark was rejected for being primarily geographically descriptive– that is, simply referring to the city of Sturgis, South Dakota.  This initial refusal was overcome by Chamber of Commerce by claiming five years of substantially exclusive use of the STURGIS Mark.   (Which, considering all of the memorabilia sold at the Rally by so many different vendors seems quite a stretch.)
Not surprisingly, the Sturgis Mark was opposed by two large vendors of Sturgis merchandise, Good Sports, Inc. ("Good Sports") and Black Hills Harley-Davidson ("Black Hills H-D").  Late in the opposition proceedings, however, the Chamber of Commerce, Good Sports, and Black Hills H-D decided to let bygones be bygones and join forces.  The three entities thereafter formed a "non-profit" joint venture, Sturgis Motorcycle Rally, Inc. ("SMRI"), and assigned the trademark rights to the Sturgis Mark to SMRI.  With no opposition pending, the Sturgis Mark proceeded to issue on February 11, 2011.
SMRI thereafter sought to enforce its trademark "rights" with threats and litigation, including a lawsuit filed June 22, 2011 against Sturgis vendors Rushmore Photo and Gifts, Inc. ("Rushmore") and JRE, Inc. ("JRE").  Rushmore and JRE responded to the lawsuit by filing counterclaims for non-infringement and invalidity of the Sturgis Marks as well as for fraud.
SMRI pressed its case on July 27, 2011 by filing a motion to dismiss defendant's counterclaims based on a claim that defendant's counterclaims contradict themselves and the failure of the defendants to make specific fraud allegations against SMRI.
Rushmore and JRE thereafter filed a surprise motion for a temporary restraining order and preliminary injunction on August 3, 2011 to prevent SMRI from carrying out threats of confiscating vendor merchandise when the Rally begins Monday August 8, 2011.  Rushmore's motion argues that Sturgis Mark was fraudulently obtained by SMRI and is invalid and unenforceable as a trademark.  In it's motion, Rushmore attached declarations from twenty-eight (28) Sturgis vendors who state that they have been selling items bearing the city's name for years, have never paid anyone a licensing fee, and that the Chamber of Commerce and SMRI have no right to prevent others from putting the city's name on merchandise sold at the Rally.
The next day, August 4, 2011, SMRI filed its opposition to the injunction motion.  SMRI argues that its trademarks are presumed valid, Rushmore has not met its burden for injunctive relief, and that the defendants are creating "consumer confusion."  (Presumably someone who buys a sticker or key chain which says "Sturgis" will be confused into thinking that the product is endorsed by the Chamber of Commerce or SMRI — just like a shot glass which says "London" is clearly endorsed by the Queen.)  SMRI also points out that it has donated its licensing fees to many great causes in and around Sturgis and therefore the court should cut SMRI a break.
On August 5, 2011, the court held a hearing and is currently considering the evidence presented.  It is unknown whether a ruling will be issued during the Rally being held this week.
—UPDATE—
The judge denied the motion for TRO and the preliminary injunction.  This ruling is not surprising given the difficult burden of showing irreparable harm (that is, harm which cannot be remedied by money) in a case that is essentially about money.  It is being misreported that the judge ruled that only officially licensed merchandise will be allowed at the rally.  The judge, however, may no such ruling as that issue was not before the court.  SMRI may, however, make such a request in the future, but it is unlikely to be heard prior to the end of this year's rally.